Ricardo Case Study
Challenge
Ricardo had significant performance challenges in their environment. Their UK hosted SharePoint platform meant latency for users in the US and China. This latency caused poor performance, which impacted many of their employees. FSP addressed this problem by implementing additional regional hubs in China and the US, providing an architecture that linked the three farms together. End-users could access a single platform while three separate sets of infrastructure supported their activities, effectively reducing latency and improving performance for all end-users by moving the information required closer to the users.
To measure changes in performance, tests were required. Initially FSP used a process that took 5 days of manpower to setup, configure and run a test, followed by more work to collate the data and produce helpful charts. The time and effort required to complete each test made incremental improvements difficult and time-consuming to achieve.
Solution
FSP choose WebTuna after extensive research to determine which tool would provide the real-time real-user monitoring needed to reduce the time spent evaluating performance before and after each improvement. WebTuna allowed FSP to immediately see the impact of each change, rather than having to wait 5 days and invest significant manpower to produce and evaluate the same data manually. "The business case to justify the purchase of WebTuna was very straightforward when you compare its very reasonable annual subscription against the time and effort of doing this work manually with Google Analytics and VisualStudio."

Results
FSP were able to successfully improve SharePoint performance across the board for Ricardo, with WebTuna helping them show the immediate impact of changes as they were made over time. "This project would not have been as successful if we couldn't show the exact statistics related to the performance improvements that were made and the positive impact on the end-user's experience. We would thoroughly recommend WebTuna to other Microsoft Partners and Companies using SharePoint."

"We rely on WebTuna to track the real user experience before, during and after any change. The level of performance information we get from WebTuna is not something I've seen in any other product and helped us help Ricardo in unique ways. The granular level of detail as well as its ease of use provided a profound benefit, saved lots of time and helped the project succeed."

Paul Bevis
Solution Architect - FSP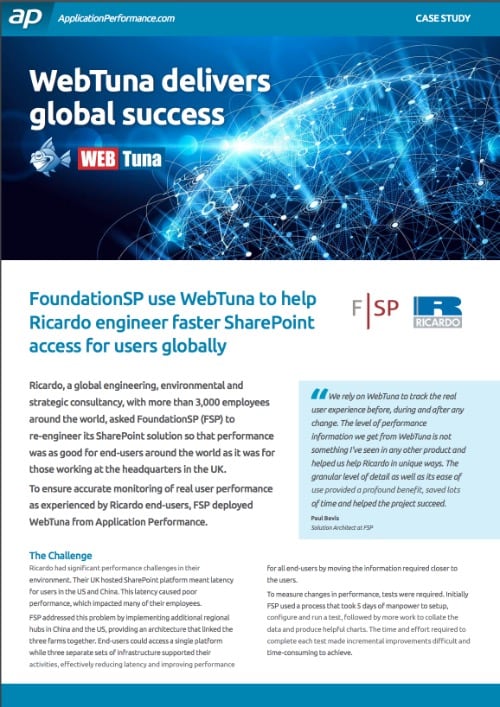 Download Case Study
More customers who trust us